Undergraduate Summer Research Fellowship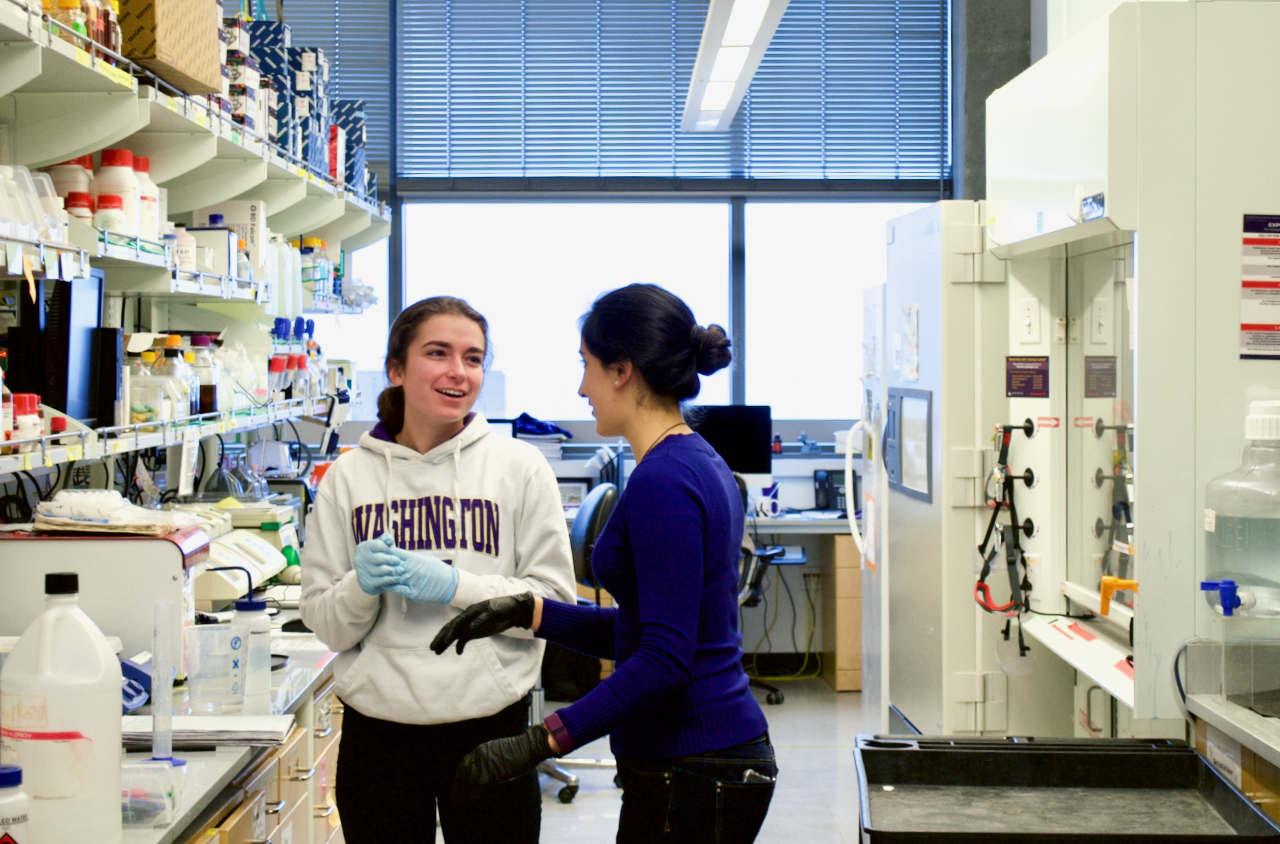 Help unlock the power of proteins
In 2020 we expect to support ten Undergraduate Summer Research Fellows: up to four current IPD undergraduate researchers (by nomination only), and up to six others, including from outside the UW. Students from underrepresented communities are highly encouraged to apply. All Fellows will conduct research in the laboratory of an IPD Faculty or Affiliate Faculty member: Baker, Bhardwaj, Bradley, DiMaio, Gu or King.
Program Eligibility
Current undergraduate students at UW or elsewhere (if you are an international student you must beJ-1 visa eligible and studying outside the US)

Undergraduates must be finishing their Sophomore or Junior year 

Interest in exploring either basic science or applied research in protein design

Advanced English skills are required to participate
2021 Important Dates and Deadlines (Program Feasibility TBD based on COVID-19)
Application Opens: Monday February 1, 2021
Application Deadline: Friday, February 26, 2021
Program Notifications: Early March 2021
Program Dates: Monday, June 21 — Friday, August 20, 2021
Expectations of Undergraduate Summer Research Fellows
Undergraduate Summer Research Fellows must complete laboratory safety training and pass a lab safety training quiz before being allowed to conduct wet lab activities. Safety is a major priority at IPD.
The primary mentors for Undergraduate Summer Research Fellows will be experienced graduate students or postdoctoral scholars working in IPD Faculty labs. They will guide Fellow's research and provide training and daily supervision. We expect Fellows to also work with others in the IPD to conduct research. The exact weekly work schedule should be determined by the student and their mentor to meet the needs of the project (not to exceed 40 hours a week).
In addition to conducting research, Undergraduate Summer Research Fellows are expected to enroll in GEN ST 391 (a 2 credit course supported by the Undergraduate Research Program) and attend a weekly seminar on Wednesday mornings at 9:00-11:00 AM. The tuition fees for the course enrollment will be paid through a partnership between the IPD and the Mary Gates Scholar program. By enrolling in GEN ST 391, Undergraduate Summer Research Fellows will establish an official UW Student Account. 
All Fellows are expected to present their work as a poster at the undergraduate research symposium in August, and to present their research as a Powerpoint in a ~15 minute presentation to an audience at the IPD.
Funding and Duration Timing
A fellowship stipend of $3,000 per month (prorated for partial months) shall be awarded to support nine weeks of research at an average of 40 hours per week, to be completed from June through August, which covers the UW summer term. Funds will be disbursed directly into student accounts in equal installments for the duration of the internship, not to exceed three months. Students may decide to begin or end the program on different dates if it is deemed both necessary and mutually acceptable to all involved. 
Application Details
Applications must be submitted via email to ipdoffice@uw.edu by 5:00 PM Pacific Time, February 26.
Applications must include:
Internal applicants are asked to provide a Research Plan Summary describing the background of the project and intended goals (500 words max). 

External applicants are asked to provide a Letter of Interest describing the intended area of research and/or goals (500 words max). We encourage applicants to study current IPD projects and reach out to postdoctoral scholars or graduate students in advance.

Resume/Curriculum Vitae

Unofficial transcripts (No minimum GPA requirement; if GPA is below 3.0, applicants are welcome to provide 200 word statement outlining any extenuating circumstances).

A minimum of ONE letter of recommendation from a mentor (professor, postdoc, or graduate student). The recommender should be familiar with your coursework and/or prior research experience. We encourage you to discuss your request for a letter of recommendation with your recommender as early as possible, and prior to providing them our contact information. Please have the letter of recommendation sent directly to

ipdoffice@uw.edu

by 5:00 PM Pacific Time, February 26

.
No additional materials will be reviewed. Materials received after the deadline will not be considered.
Candidate Selection
The review committee consists of IPD Faculty, Postdoctoral Scholars, Graduate Students and Staff, who will be involved in mentoring the Undergraduate Summer Research Fellows.