We are proud to announce that last week, David was named winner of Seattle Business' 2016 Leaders in Health Care Awards for "Outstanding Achievement in Delivery of Digital Health." The award was one of several given out, with categories ranging from "Lifetime Achievement" to "Outstanding Achievement: Health Care Delivery." Although David was ill and unable to attend the dinner event, Trisha Davis accepted the award in his place. Seattle Business says this about the awards: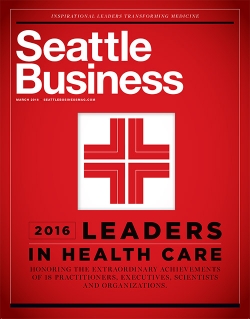 As technology improves and Americans spend more on treatments to cure or prevent disease and injury, 2016 is likely to be a challenging year in health care. Doctors, nurses and clinicians are learning to work in new and innovative ways as consumers rely on video consults and their smartphones as diagnostic tools.
The 18 honorees in Seattle Business magazine's 2016 Leaders in Health Care Awards are up to the challenge. All are champions for change, compassionate visionaries who believe in better patient care. They are harnessing technology, tackling the unknown and solving scientific puzzles — all in the name of promoting health and lowering costs.
They are forward thinkers who excel in the delicate balancing act involving the health, lives and resources of consumers. Congratulations to this year's honorees for their commitment to ensuring Washington's health care industry remains at the forefront of worldwide achievement.
http://www.seattlebusinessmag.com/article/2016-leaders-health-care-awards
There is also a separate article about David here.
Additionally, back in January, David was listed amongst Thomas Reuters' list of "World's Most Influential Scientific Minds" for 2015. He was one among 27 UW faculty members that made the list, which is determined by most citations by peers for various fields. You can read the UWToday article here. David was selected for biology and biochemistry.