September 16, 2013
The Life Sciences Discovery Fund  (LSDF) today announced its latest round of Opportunity Grants, and awarded $1.4 M to the University of Washington (UW) to support translational research for medically useful designer proteins discovered in laboratories at the Institute for Protein Design (IPD).  UPDATE April 2014: The LSDF funding to the IPD was matched 4-fold by generous contributions from private donors ($3.2 M), UW ($1.4 M), and the Washington Research Foundation ($1 M), additional donations can be made here).  Dr. David Baker, the Directory of the IPD commented "We greatly appreciate the tremendous vote of confidence that the LSDF and philanthropic donors have in the IPD, where we are generating whole new classes of designer proteins with broad application to vaccines, diagnostics and therapeutics." (See Figure 1.)
Figure #1.  Protein designs shown here represent self-assembling nano-particle protein cages that can be used for drug delivery (left), an designed enzyme called KumaMax that is the basis for an oral celiac disease therapy (middle), and a protein designed to bind the cardiac glycoside small molecule digoxigenin (right).
Entitled "Launch of the Institute for Protein Design for Creating New Therapeutics, Vaccines and Diagnostics," this LSDF Opportunity Grant Award will enable the IPD Translational Investigators to improve upon protein design discoveries so that they may one day become viable solutions to real-life challenges.   This translational work is done in collaboration with the C4C entrepreneurs in residence, the Arthur W. Buerk Center for Entrepreneurship in the Foster School of Business, and the Institute of Translational Health Sciences (See Figure 2).
"These Opportunity grants, to two of our state's top research institutions, will help Washington maintain its leadership position in cancer research and treatment and capitalize upon the outputs of some of our most innovative and productive investigators," noted LSDF board chair Carol Dahl.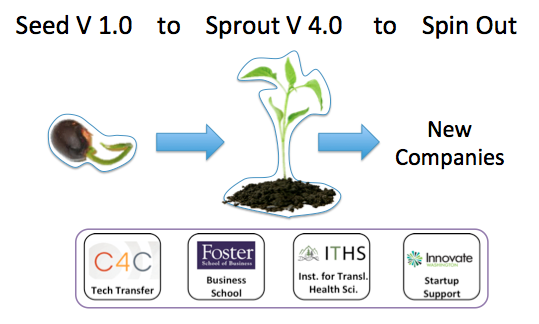 Figure #2 With LSDF funding and matching support from philanthropists, the Institute for Protein Design will support translational research to convert V1.0 protein designs (Seeds) into V4.0 enhanced versions that have improved viability (Sprouts) as assets for licensure to new companies (Spin Outs).  This is done with the support of C4C, Foster School, ITHS, and other Washington state resources.
The power of private support

The LSDF seeks to leverage its investments with significant matching contributions from philanthropic donations which can be made here.  Private support will be critical in building the IPD. Investments from visionary philanthropists will have an impact in donors' lifetimes, while serving as a legacy for future generations of researchers, physicians and patients.
You can also help us by becoming one of over ~360,000 Rosetta@home participants, and put your idle computer to use for protein design.  Join a team playing FoldIt (a free protein-folding game) where you and other gamers are cracking important protein folding challenges.  There are over ~330,000 registered FoldIt players.
For more information
For more information on the UW Institute for Protein Design, please contact Andrew Welch, Assistant Vice President at UW Medicine Advancement, at 206-616-6464 or akwelch@uw.edu. Thank you for your interest in our work.
This article was Authored by Dr. Lance Stewart, Sr. Director of Strategy (ljs5@uw.edu) at the Institute for Protein Design, with kind input and guidance from UW colleagues, and with the aid of web resources linked throughout this posting.